Not only learning the language but also applying it widely.
In addition to the goal of creating a pleasant and safe workplace for all healthcare workers from Ghana, MedicalBrokers will also promote and maintain contacts with other social and cultural organizations. All this to stimulate a quick and pleasant integration into Dutch society and to master the language faster.
Lively Social Contacts
Since First Lady Hon Rabecca Akufo-Addo presented Ghana in 2019 on "La Biennale di Venezia", a number of Ghanaian artists became known all over the world at once. In particular Mae-ling Lokko from the Volta Region (stage name: El Anatsui) -he was already well known in Europe- jumped to a new record high with prizes for his "wall decoration sculptures" up to 1 Million Euros and more.
In close contact with a European art promotor "OTTOMANE artcollection", MedicalBrokers organizes visits to opening performances ("vernissages") in the Netherlands, Belgium or Germany where works by El Anatsui and other Ghanaian artists are shown. Accompanied by members of Ghana Diplomatic Corps and traditionally dressed, your presence will be an extra dimension to the festivity. Above all, an extraordinary opportunity to perfect your knowledge of the language in a completely different environment.
In return, MedicalBrokers is supporting OTTOMANE artcollection with appropriate sponsoring.
Millennium Development Goals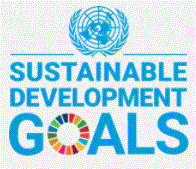 Some years back, United Nations Organisation has encouraged a few companies in Ghana -as outlined in their Global Development Goals-.to come up with a plan to help eradicate poverty and improve living standards. The Thomas Aquinas Foundation was established and a plan was drawn up to also contribute to reducing global warming and climate change by protecting Ghana's vast but precious forest. After all, this is hugely threatened by 4% annual logging for charcoal and firewood alone. One generation on and all the forest in Ghana could have disappeared.
To stop this unnecessary destruction of forests, a plan has been developed to provide -nationwide- the less privileged housewives -the potential charcoal users- with small gas bottles and organise "charcoal-women" to keep filling them up.
The Foundation receives funds from private participants in Europe, from the Netherlands in particular. They sponsor the bottles and receive bonds as collateral: one bottle- one bond.
.
The Foundation has set up an online structure in which the Dutch bond holder can keep track of the regular use and filling of "his or her" bottle. This provides the health worker with a special opportunity to refine her language skills. She is maintaining contact with the Dutch bond owner and the "charcoal-woman" & bottle user"" in the district she comes from. This is a wonderful opportunity to generate some extra income as the Foundation will pay an extra fee for such services.